TIGHTEN UP - AUGUST 16TH 2019:
Here are all the 5 regular versions of our forthcoming 7" single, "The Way of a Woman" by THE SLACKERS! What a process; involving some of the best designers we know to create their interpretation of the visual presentation of the song!
As usual we have our regular, series edition created by Sir Horace Panter:


Then we have the version by Danish illustrator Mette Ehlers: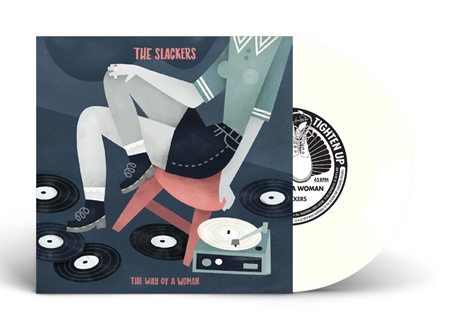 Our good buddy Buster Bone from France came up with this gem:


Canadian painter and general wizard Danny Rebel did this awesome piece:


And Mr Hervé Peroncini from Slowbeat.it did this beauty: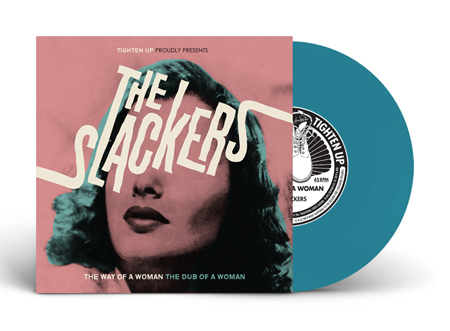 Pre-orders for all editions are up and running now right here!
All orders will be shipped late October!

TIGHTEN UP - MAY 28TH 2019:
It's finally out in the open - our next release will be the new lead single by legendary NYC Jamaican rock 'n' rollers THE SLACKERS!
The single is titled "The Way of a Woman" and is slated for a late September release 2019. Stay tuned for more details on the B side, the various editions we're making as well as the pre-order options!

TIGHTEN UP - APRIL 2ND 2019:
We've been so pleased with how everything has been going with the process and release of THE TOASTERS' "Ska Jerk" 7" last year. A real pleasure!
So now we're beginning to look forward to our next release; the 5th single release that we aim to put out in the early fall of this year! More news very, very shortly!

TIGHTEN UP - NOVEMBER 14TH 2018:
We're overly excited to reveal a US exclusive edition of THE TOASTERS' "Ska Jerk" 7" to be sold through Chicago based Jump Up Records!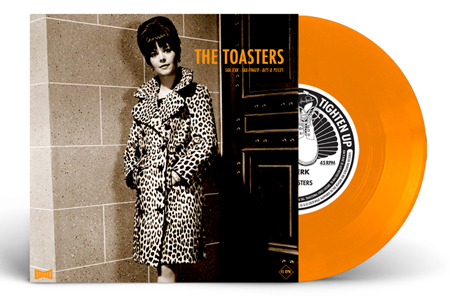 The cover is a spit in the other direction from the 5 already announced ones that are all graphical and/or drawn. This artwork draws entirely on the pop culture of the mid-1960s (with a respectful nod to the easthetics of Morrissey!) and what better cover girl than Natalie Wood! She starred in the 1966 comedy/crime flick "Penelope" that was a financial and critical flop but has since been credited for capturing the interior design, fashion and lifestyle of the mid-1960s. It's perfect!

TIGHTEN UP - NOVEMBER 8TH 2018:
Having revealed all the 5 different versions of THE TOASTERS' "Ska Jerk" 7" we have also announced both the artwork of our ultra limited edition (25 copies!) as well as the fund raising purpose for this one!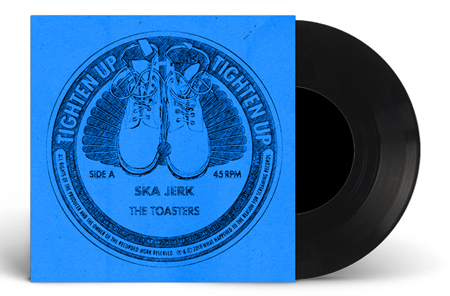 :
The cover has gone through the hands of 3 different designers and artists to end up like this and we could not be happier; 25 pen-stroke versions on cardboard with black labeled black vinyl. Awesome!
As we write we're aucting off the copies on eBay in order to raise money for Landsforeningen Autisme (Danish center for Austism). So follow our profile here if you want one of these rarities and support a very good organisation at the same time!

TIGHTEN UP - NOVEMBER 1ST 2018:
No we have the remaining 3 of the 5 pieces of artwork revealed and up for pre-order.
Having already announced the series artwork, originally created by Horace Panter, the following 3 are: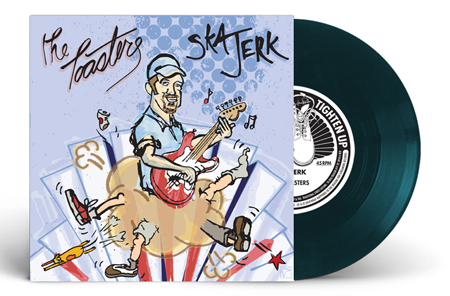 "Jeremy edition"- pre-order/buy here!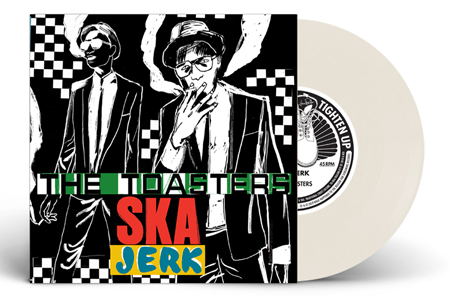 "Frederic edition" - pre-order/buy here!

"Buster edition" - pre-order/buy here!

Have a look at this small promotional video we made containing snippets of each of the 3 songs on the EP!
Official release date is November 23!

TIGHTEN UP - OCTOBER 3RD 2018:
We're ready with our 2nd of a total of 5 different covers for the THE TOASTERS: "Ska Jerk" 7" - and this one by the incredibly talented Hervé Peroncini from Italy who's daily the head honcho over at Slowbeat.it!
Just look at this stunning piece of artwork: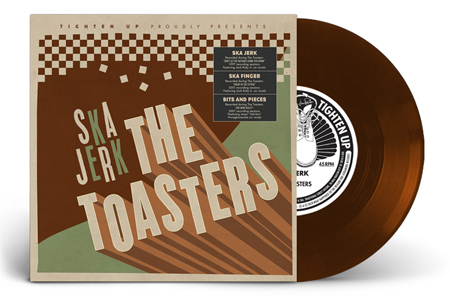 Pre-order for his 100 copies are now up and running here!



TIGHTEN UP - SEPTEMBER 26TH 2018:
It's official - our next release will be THE TOASTERS: "Ska Jerk" - a 3 track long 7" seeing the iconic 3rd wave ska band covering three 1960s soul gems!
Over the next weeks we will be revealing more details on the release and commencing on the presale! As a new approach we have involved 5 different designers from around the world to give their unique visual interpretation of how they picture the cover for this one. So 5 x 100 copies of this release!
Until then, please don't hesitate spreading the word on our past 3 single releases that you can purchase at bundle prices right here.

TIGHTEN UP - JANUARY 15TH 2017:
We've been silent the last year and a half due to other releases and commitments. Among other things we've put out our very first book which we're immensely proud of!
But....now it's time to gear up! We hope to finally see the 4th TIGHTEN UP release during the course of 2017. We're preparing the leap we planned quite some years back so we're keeping our fingers crossed for it to happen!
Until then, please don't hesitate spreading the word on our past 3 single releases that you can purchase at bundle prices right here.

TIGHTEN UP - MAY 23RD 2015:
In a not so distant future we'll be ready with an update on future releases :-) As it looks now we'll put out our 4th single release by the end of the year and hopefully a full length by the beginning of 2016!
Until then, please don't hesitate spreading the word on our past 3 single releases that you can purchase at bundle prices right here.
Also, jump by our webstore if you want to get your hands on the limited merchandise that we repressed earlier this year!

TIGHTEN UP - MARCH 30TH 2014:
Hello, hello! Time for an update on our next release as we're finally waiting for the test press to arrive! This one is the last one we planned for when we launched TIGHTEN UP during summer of 2013. And we're thrilled to finally announce this one!

The leading ska/rocksteady force from Denmark - BABYLOVE & THE VAN DANGOS - have been releasing steadily and gigging heavily for the past 8-10 years now. 4 full length albums so far and a few singles plus numerous compilations - and currently finising off writing their forthcoming 5th album. And from this album we hereby present the 1st single - "Any Port In A Storm"!
After penning the song the band soon realized that it had to recorded in 2 different versions - a ska and a soul version and it works beautifully both ways! The song is dedicated to Daniel's (singer) first-born and as he puts it: "The song sprung from the realization that I would literally do anything for this little girl. Go anywhere, sacrifice anything, kill anyone...and it scared the hell out of me. It probably always will".
The 7" double AA side single will see the light of day on May 16th - but they will carry it exclusively on their forthcoming Denmark tour early May! Stay tuned for pre-order details!

TIGHTEN UP - DECEMBER 30TH 2013:
Tomorrow it's the final day of 2013 - and thereby also our first year of existing concluding!
TIGHTEN UP was set forth for a very specific purpose and we couldn't be happier with the reception so far - and therefore we cannot wait to embark on new adventures in 2014!
Lined up now is our 3rd single which is due out in April - more news on that in early February ;-) Also in the pipeline is more merch and a small trade section that we hope you will like!
All the best, happy new year and please spread the word!

TIGHTEN UP - AUGUST 23RD 2013:
We're thrilled to announce the 2nd TIGHTEN UP release that will come out in December - "Run-Around b/w Gotta Go" from LEO & THE LINEUP from Denmark: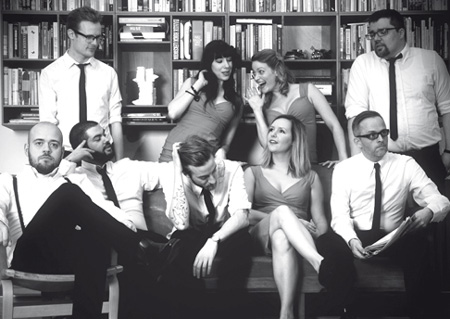 Stay tuned for pre-order details as well as an update on the ultra limited edition!

TIGHTEN UP - AUGUST 3RD 2013:
A very limited batch of merchandise has been made available in our webstore and they're flying fast :-) Check out a happy customer here:


Also, the RANKING ROGER: "Muscle Ska / Civilization" 7"is up as a pre-order in the shop! Will ship just prior to the release date, August 16th!

TIGHTEN UP - JULY 17TH 2013:
Welcome to this mini-site for our brand new baby - our TIGHTEN UP label imprint specliazing in Jamaican music! We're so happy we finally got here and we're even more thrilled that we're kicking off in style...and soon!
Our first release will be a 7" from the legendary RANKING ROGER from The Beat. In connection with his "Restrospective" album release we have been lucky enough to get to release one of his trademark songs on vinyl for the very first time - the crowd pleasing and thunderous "Muscle Ska" which is co-written by Neville Staple from The Specials. The B-side is a regular gem - the previously unreleased "Civilization" featuring Sly & Robbie! The 7" will be released August 16th and stay tuned for pre-orders!
Next we'll announce a couple of releases towards the end of the year that we cannot wait to share with everyone!